Home > Temple Stay > Temple Stay - Daejeon





If you wish to have more information of Korean Templestay,
please send us e-mail or fax (+82-2-6092-8150).


Gahp sa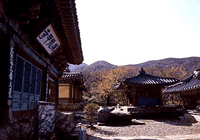 Gahp Sa is located in Gye-Ryong Mountain National Park and its history has been continuous for about 1,600 years since its founding in the 5th century, in the three Kingdom Period in Korea. Besides the beautiful vistas around it, Gahp Sa has numerous and diverse kinds of Korean Buddhist arts which have accumulated during its long history, including traditional architecture, statues, Buddhist paintings, stone sculptures, Dharma Bells, and valuable calligraphic arts. Especially it includes two unique cultural assets, the pole for a temple flag and the iron pole supporter.


Hahk-lim sa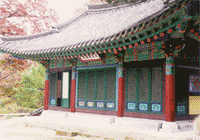 Hahk-lim Sa Temple is located in a very beautiful place where King Eui-ja built Je-suk sa Temple in the Baekjae Kingdom (18~660). Venerable Jahjahng of the Shinlah Kingdom (57~668) indicated by geomancy this would be a good place for a temple. In the view point of geomancy, this temple is the best location to build on Kyeryong Mountain, which is the most spiritual mountain in Choongnahm Province. So this temple, which has pure spring water and beautiful stars at night, is the perfect place to meditate and practice. Hahk-lim Sa Temple's Meditation Center is open to the public so that anyone can stay to purify their minds and bodies in the beautiful and clean mountain and find their Buddha nature through practice.


Gwang-ju sa

Gwang-su sa Temple, located in the Gye-ryong Mountains, was built as a Chontae Order temple in 1995. The Chontae order places a special emphasis on the Pure Land and developing worshippers' spirituality to be reborn there. In the main ritual hall (Hall of Peaceful Light) there is a Buddhist triad with the Cosmic Buddha, Virojana, in the centre and the historical Buddha and the Bodhisattva of Compassion on each side. Also, there are 1,053 Buddhas and of 3,300 Buddha lanterns in the main hall. One of the mysteries of this temple is that a flower has been growing from the elbow of the Cosmic Buddha in the Main Hall since July 21, 2000, and this has been regarded as a holy harbinger to the Buddhists who worship here.


If you wish to have more information of Korean Templestay,
please send us e-mail or fax (+82-2-6092-8150).